Shaneen, Ides, Rook
November 23, 2019 @ 4:30 pm

-

6:30 pm

Free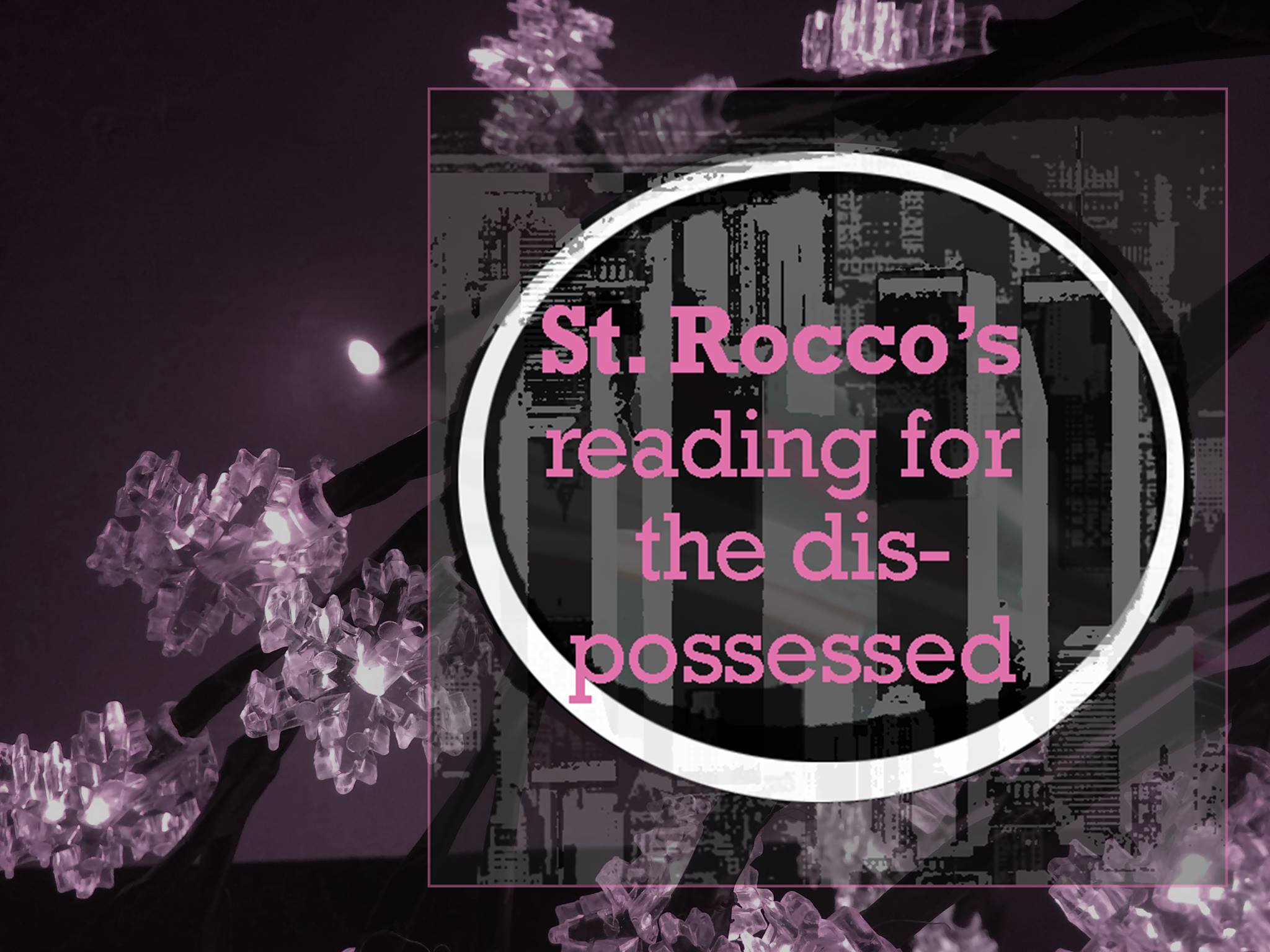 St. Rocco's Readings for the Dispossessed presents an evening with Marianne Shaneen, Bethany Ides, and Ellen Rook.
Marianne Shaneen is a Lebanese/Mexican-­American writer of fiction, poetry, and essays, who also works in documentary video. Shaneen received her MFA in writing from the Bard Milton Avery Graduate School of the Arts. She has been awarded fellowships at the MacDowell Colony and at Yaddo, and received a NYSCA Individual Artist grant for her documentary video essay—a poetic, playful, provocative exploration of fluid identity and trans-species possibility. Her work has appeared in Bomb, The Brooklyn Rail, Manchester University Press, Vanitas, and elsewhere. Her chapbook Lucent Amnesis was published by Portable Press/Yo-­Yo Labs. She is currently finishing her first novel, Homing—a speculative fiction work that experiments with what she calls "writing in the first non-human-person," from the 'perspective' of various animals, plants, a stone, plastic. Amidst eco-destruction and military and corporate control of technologies and bodies, its female protagonist asks, Where does self end and other begin? As she realizes that everywhere home might be is becoming uninhabitable, personal trauma becomes increasingly entwined with ecological trauma. She lives in Brooklyn and in upstate New York, with her partner and their dog Rupert Pupkin.
Bethany Ides is a Rondout Valley-based writer, artist, teacher, theater-maker, organizer & Co-Director of DOORS UNLIMITED, which is a generative structure for research in convocational technologies and speculative folklife. Her communitarian operatic work has been hosted across the U.S. & Canada by Harbourfront Centre, Knockdown Center, Brooklyn Museum, Fragmental Museum, Mandragoras Art Space, Tritriangle, FADO Performance Art Centre, the Prattsville Art Center, SenseLab, CounterPULSE, Dixon Place, Sunview Luncheonette, Worksound Gallery, St Marks Poetry Project, & digital space subleased by Facebook/Instagram to BOMB magazine. Her most recent poetry, scripts, critical-theoretical essays, & collaborative projects have appeared in The Candidate Journal: Psychoanalytic Current, C Magazine, Ear | Wave | Event, Temporary Art Review, Feminist Temporalities, Orange Mercury, and fields magazine. She is an Adjunct Associate Professor in Humanities & Media Studies at Pratt Institute where she teaches courses on things like pleasure, play, disorientation, & slippage.
Ellen White Rook is a poet and teacher of contemplative arts residing in upstate New York. She offers workshops on Japanese flower arranging and regularly leads day-long Sit, Walk, Write retreats that merge meditation, movement, and writing. A member of the Evergreen Poets Workshop since 2017, Ellen is currently pursuing a Master of Fine Arts at Lindenwood University.